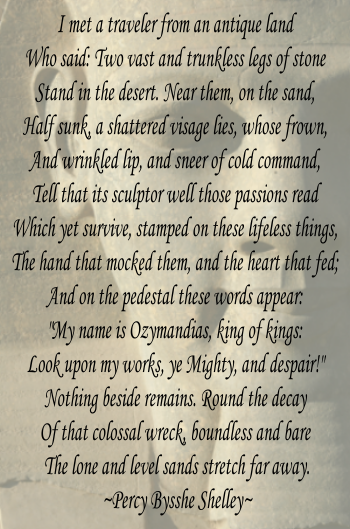 Ozymandias is also known as Ramses the Great. It is personified in a sonnet by Percy Bysshe Shelly in 1818. While speaking of the decayed state of this once great emperor's land, it also speaks to the strength of the foundation for which Ramses the Great had built. Long has his empire disappeared, yet the statues, the legend, and even his name lives on today.
Ozymandias Creations, inc. is the parent for several IT solution companies.
Formed in 2009, our goal is to meet your small to medium business needs. We build the IT infrastructure that help to support your business. From website design to managed services to ongoing maintenance support, our companies are designed to provide you with the customized and professional approach to meet your needs.
Our staff come with over 20 years combined experience. We have lived and dealt with all levels of organizations. Our employees have worked on a number of projects and come with a wide array of exposure that includes large, world-wide corporate environments and small businesses. With this experience, we have come to realize there is very little out there tailored for the "little guys". As small businesses ourselves, we've partnered with industry experts and flexible services to meet the needs of this diverse and unique market.